Similarly with the Business Plan, many organisations produce poor business plans that do not connect the business or business unit's activity to the organisational strategy. Nor do they take into account the resources available, be that operating expenditure, capital or human resource.
Central to the development of business plans and in some business cases is the concept of the business model. How will the business generate revenue, how will you market your business, who are the key relationships with, what are your cost structures. There are many ways to develop a business model, however Idea Partners have found the business model canvas to be an excellent method to ensure all the key components of the business model have been considered. Idea Partners Associates can facilitate workshops to develop a business model canvas for your organisation.
There are nine components to the Business Model Canvas.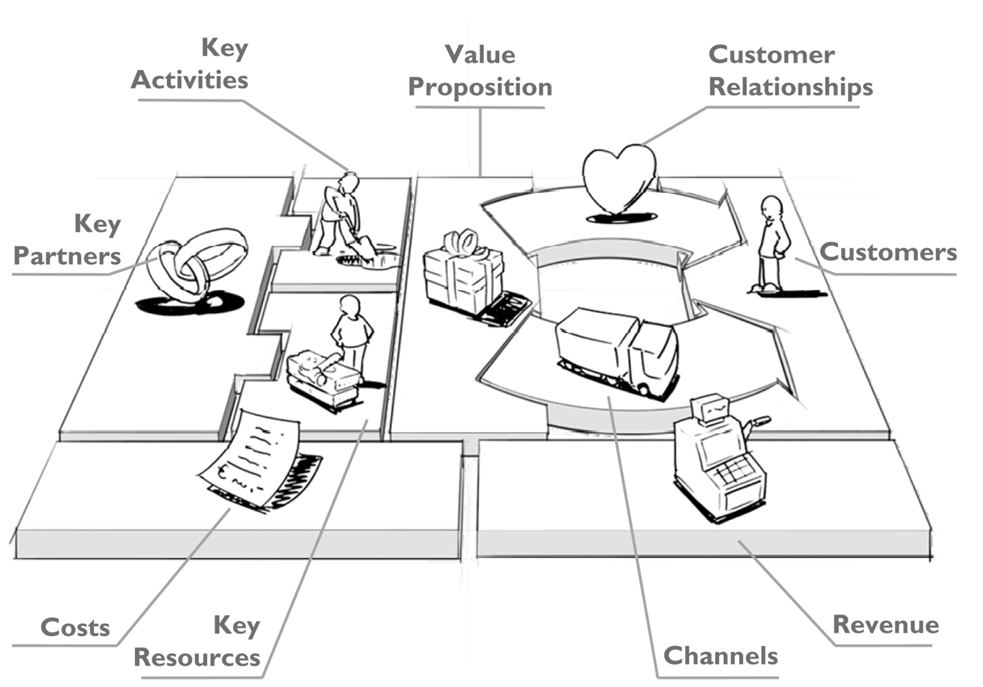 1. Value Proposition:
What are the bundle of products and services that create value for specific customer segments. This may be novelty, performance, customisation, design, brand, price, cost reduction risk reduction, accessibility and convenience/usability.
2. Customers Relationships:
What type of relationship do we have with a specific customer segment? I.e. personal self-service, automated, communities,
co-creation etc.
3. Customers/Customer Segments:
Customer(s) Segments define the groups of people or organisations an enterprise aims to reach and serve. E.g. Mass Market, Niche Market, Segmented, Diversified, Multisided. Define these segments with examples
4. Revenue streams:
How do you generate cash from a specific customer segment. i.e. asset sale, usage fee, subscription fee, lending/renting/leasing, licencing, brokerage, advertising. Is pricing fixed (list price, by product feature, by customer segment, volume dependent) or dynamic (Negotiation, yield managed, real time, and auction).
5. Channels:
What are the channels to be used? I.e. sales force, web sales, stores, partner sores, wholesaler etc. How will you make potential customers aware of your offering? How will customers evaluate the offering, purchase the offering, how will you deliver the offering and what does after sales look like?
6. Key Resources
What are the most important assets required to make the business model work? Physical, Intellectual, human, Financial
7. Cost structures:
Describes the costs incurred to operate the model (salaries, travel, licensing) and the focus of the cost structures, i.e. cost-driven or value-driven.
Cost structures tend to have the following characteristics: fixed costs, variable costs, economies of scale, and economies of scope.
8. Key Partnerships:
Describes the network of suppliers and partners and their function that make the model work, e.g. optimization and economy of scale, risk reduction, acquisition of resources and activities etc.
9. Key Activities:
What are the most important things the business does to make the model work? E.g. Production, problem solving, platform/network etc.