Assurity Programs are often instigated when projects have failed to deliver, or when projects are veering off course and Organisations often look to the Project/Program Management Office to deliver the Assurity program. It can be incongruent to expect the PMO/PgMO, which is in place to support and assist the management of projects and programs, to perform an Assurity function.
Post Implementation Reviews (PIR's), performed once a project has completed (often when the project has failed to deliver), and Independent Quality Assurance Reviews (IQA's) performed on in-flight projects (again, often when projects are veering off course) frequently identify the initiation of a project as the main cause of failure. At this point, the Assurity effort is at best the "ambulance at the bottom of the cliff".
Many projects are set up to fail with:
poor business cases, lack of business and benefit management analysis (identification, quantification, tracking and realisation)
a lack of stakeholder analysis and engagement
little if any thought to communications strategy and planning, reporting, document management and configuration and version control
inadequate planning of capital or human resources and identification of dependencies
unsatisfactory budgeting process
no thought to change management
ineffective change controls
and worst of all, a lack of governance and understanding of roles and responsibilities
Ideally a project will have an integrated Assurity Program including:
"Project Mobilisation Review" (PMR) that sets a project up with the best chance of success, ensuring all the key elements are in place
"Independent Quality Assurance" Review (IQA) to ensures a project stays on track
"Post Implementation Review" (PIR) to gain valuable learnings.
Note "IQA's" can be "Full" or "Light" depending on the context. If an IQA is being performed in isolation, this would usually require a "Full" review. IQA's that are part of an integrated Assurity Program would usually be "Light". A multi-year project may require a number of IQA's through its lifecycle.
The methods, systems and processes set up by the EPO [Enterprise Portfolio Office], PgMO [Program Management Office] or PMO [Project Management Office] to support successful delivery of projects and programs should also be reviewed through a "Maturity Review". A Maturity Review can identify risks and issues with the entire Project Environment and would identify areas of improvement, suggest actions to manage the issues and mitigate the risks.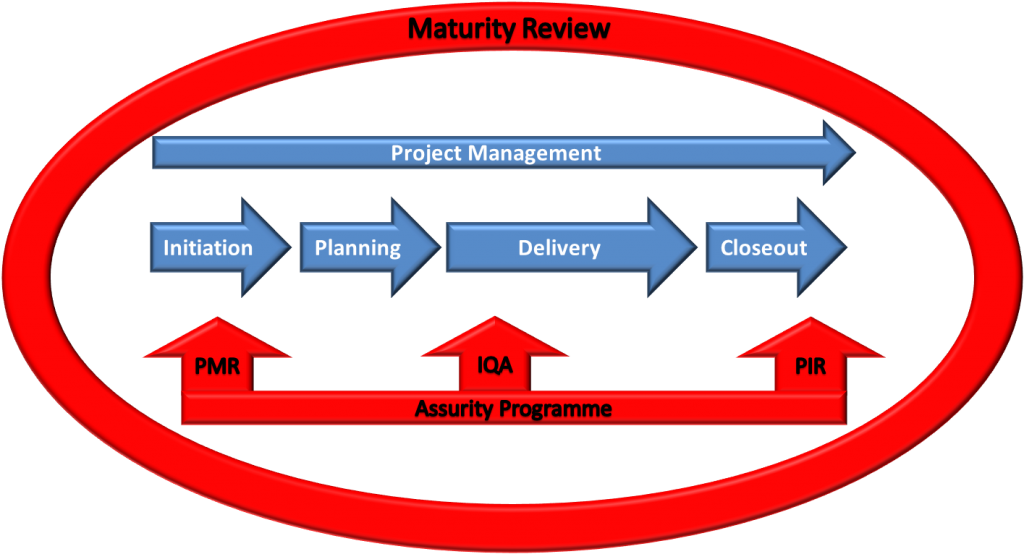 Idea Partners is able to provide a fully integrated Assurity Program (PMR, IQA & PIR, Maturity Review) and or provide the components of an Assurity Program individually.
Idea Partners is also able to provide a full range of Assurance products and services.